WHERE ARE WE?
The Centre Pompidou Málaga is located in the remarkable building known as The Cube, between Docks 1 and 2 of the port of the city. A privileged location in front of the waters of the bay of Malaga.
GETTING HERE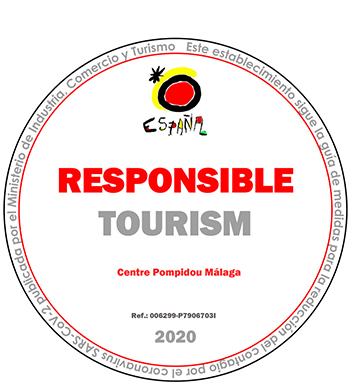 OPENING HOURS
We are closed every Tuesday as well as the 1st of January and 25th of December.
The Centre will open on public holidays on Tuesdays and eves.
On the 24th and 31st of December, the Centre will open till 15:00h. (last admission at 14:30h).
Admission is allowed 30 minutes prior to closing time.
If you have any questions regarding the opening times, please contact us 951 926 200 or through our WhatsArt!.
ADMISSION FEES
Single Tickets
| | GENERAL TICKET | REDUCED TICKET |
| --- | --- | --- |
| Combined (Semi-permanent + temporary) | 9 € | 5,50 € |
| Semi-permanent exhibition | 7 € | 4 € |
| Temporary exhibition | 4 € | 2,50 € |
Group Tickets
| | GENERAL TICKET |
| --- | --- |
| Group admission* | 7 € |
| Group admission with guided tour opening hours** | 10,50 € |
| Group admission with guided tour closing hours | 65 € |
Learn more about our our guided visits and educational program.
Single Tickets
| | GENERAL TICKET | REDUCED TICKET |
| --- | --- | --- |
| Combined (Semi-permanent + temporary) | 9 € | 5,50 € |
| Semi-permanent exhibition | 7 € | 4 € |
| Temporary exhibition | 4 € | 2,50 € |
Group Tickets
| | GENERAL TICKET |
| --- | --- |
| Group admission* | 7 € |
| Group admission with guided tour opening hours** | 10,50 € |
| Group admission with guided tour closing hours | 65 € |
Learn more about our our guided visits and educational program.
 
ACCESSIBILITY
The building known as The Cube, where the Centre Pompidou Málaga is located, has been adapted following all the normative requirements of accessibility. The centre has ramps, elevators, a cloakroom and adapted restrooms that allow free movement through.
INTERACTIVE MAP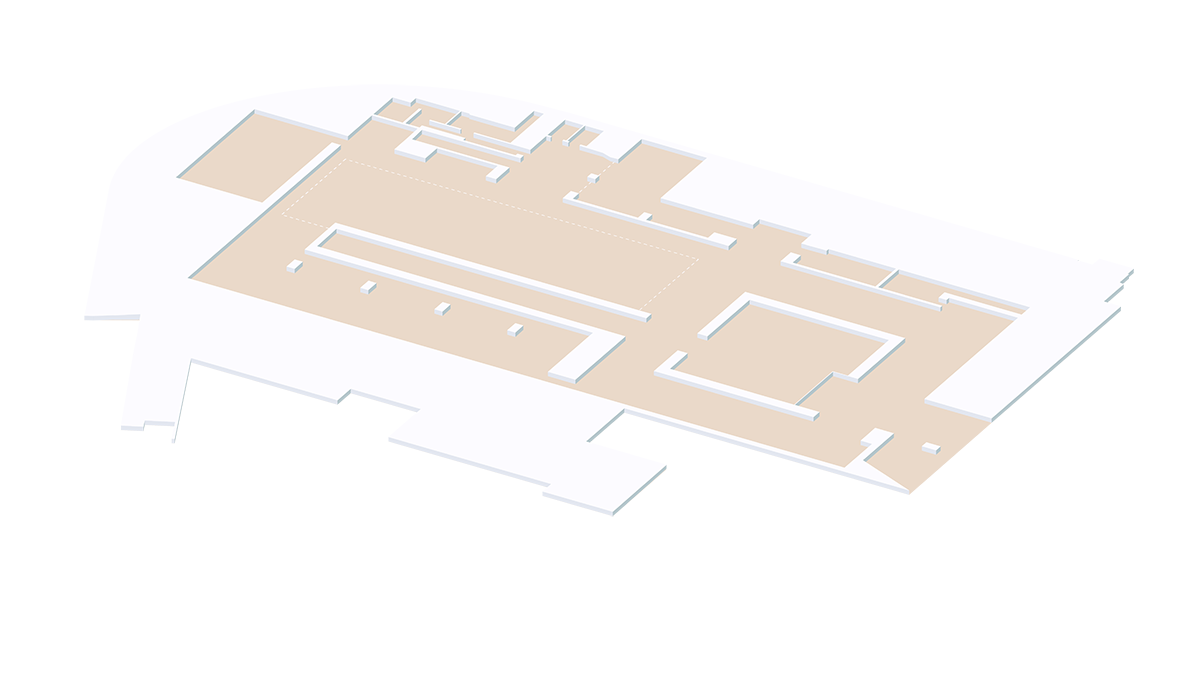 Young Public Workshop
A CADA CUAL SU PUNTO DE VISTA
Semi-permanent exhibition
DE MIRÓ A BARCELÓ. UN SIGLO DE ARTE ESPAÑOL
SERVICES
To ensure the safety of visitors and workers and in compliance with the regulations of the Ministry of Health, we are currently unable to offer you these services:
VISITORS GUIDELINES
CONTACT US
 
BROCHURES
In this section you will find a selection of brochures in English / French.
CURRENT EXHIBITIONS
FROM MIRÓ TO BARCELÓ. A CENTURY OF SPANISH ART
12/03/2020 – 28/02/2022
Cubism, surrealism, figuration and abstraction; painting, sculpture, film and video; in the history of 20th and 21st century art, not a single period or field has not been led by Spanish artists. Pablo Picasso, Joan Miró, Salvador Dalí or Luis Buñuel advocated for new ways of seeing and creating that remain strong influences today. This chronological pathway through a century of Spanish art reveals how the current generation of artists has kept alive the spirit of the avant-garde with extraordinary energy. Their predecessors lived through troubling times, Parisian exile, the war, and ostracism which fuelled a repertoire of moving, radical and even sacrilegious images.
Once freedom is restored, their heirs, such as Miquel Barceló, Cristina Iglesias, and La Ribot, among others, keep on surprising us by inventing new approaches to painting, sculpture and space which re-enchant the materials, rituals and myths of Spanish art.
HORS PISTES 5TH EDITION.
THE ECHOLOGY OF IMAGES
02/12/2021 – 17/01/2022
In accounts of early 20th century conquests, nature was a hostile entity that had to be dominated. Nowadays, the paradigm has been reversed: ecological considerations are an integral part of our culture, urging us to protect nature from humanity and its greed.
Today's images are a little like the Lumière brothers' train: bombarding through network channels from all sides and inundating the many screens that surround us. This is the age of the instantaneous image that invades our physical and mental space. We are witnessing a sort of "biology of images": continually exchanged, duplicated, edited, subverted, they form an endless flow. These energy-consuming images contribute to global warming.
How can we envisage digital moderation in the context of the current emergency? Can we imagine ecological actions in the face of this flow of images?
Based on these questions, Hors Pistes has invited guest artists from the French and Spanish scenes, whose works are displayed in the interstitial spaces of the Centre Pompidou Málaga.
SOPHIE CALLE
The Centre Pompidou Málaga is showcasing almost forty years of creation by French artista Sophie Calle, born in Paris and based in Malakoff, with an original exhibition that reviews some of her favourite themes: love relationships, absence and loss.
The exhibition opens with the series entitled Le Mari (The Husband, 1995) which recounts Sophie Calle's relationship with her ex-partner, Greg Shephard, with whom she made the film No Sex Last Night, a diary of their trip across the United States in 1992. The film is projected in the Auditorium.
L'Hôtel (The Hotel, 1981-1983) presents another side of Sophie Calle as she slips into the skin of a chambermaid and reveals the private lives of strangers without their knowledge. With the series entitled Douleur exquise (Exquisite Pain, 1984-2003), the artist returns to a difficult romantic break-up she experienced in 1984, which she compares with accounts of suffering by anonymous people.
The visit concludes with Souris Calle (2018), one of her latest works, presented in Spain for the first time. The artist uses video and a music album to relate the loss of her cat Souris (that is translated as Mouse and Smile) and the void created by its absence.
TO EACH ONE HIS POINT OF VIEW.

YOUNG PUBLIC SPACE.
04/06/2021 – 06/02/2022
The exhibition-workshop To each one his point of view combines a series of activities to educate the gaze in a playful and fun way. Focusing on a detail, changing the scale or angle of vision, approaching the subject «cautiously, like a wolf», as Henri Cartier-Bresson said, and playing with shadows and lights, are some actions that allow you to enjoy with your gaze and appropriate our day to day. Expanding a detail, a texture, a color, opens the mind to a world of sensations.
This workshop is an opportunity to discover a specific vocabulary to learn to find meaning in the images. Expressing themselves with words, exploring photography allows children to appropriate reality and see their everyday environment in a different way. By inventing their own scenes from different photos and materials, they create images and gain the distance necessary to decipher and read them.
A film with photographs by Henri Cartier-Bresson specially selected for the occasion completes this proposal aimed at a young and family audience.
VILATÓ. 100 ARTWORKS ON THE 100TH ANNIVERSARY OF HIS BIRTH
Centre Pompidou Málaga holds artworks by Javier Vilató as a tribute and to commemorate the artist's centenary at the same time with the Museo Casa Natal Picasso. The exhibition Vilató. 100 artworks on the 100th anniversary of his birth, which shows the artistic creation and personal style of Javier Vilató (Barcelona 1921 – Paris 1999), Picasso's nephew -son of his sister Lola- who managed to make a name for himself on the national and international art scene.
The exhibition can be seen at the Museo Casa Natal Picasso (61 pieces -58 canvases and 3 sculptures-) until March 20, 2022 and, in addition, at the Center Pompidou Málaga (9 pieces -8 canvases and 1 sculpture-) until February next year. The Museum of Contemporary Spanish Engraving (Marbella), the Picasso Museum (Barcelona) and the Almoradí Town Hall Exhibition Hall (Almoradí, Alicante) join in the tribute to the artist's centenary with samples of his most significant artworks.